Gapps aims to become Europe's leading expert in digital work
The way we work has been changing for some time now. Mandatory remote work and the changing world are revolutionising the way companies work. Hybrid working is here to stay on a large scale. This prompted us to update our strategy to address the challenges of modern work more effectively.
Gapps' new strategy and Work 4.0
In the future, we will offer companies robust Google Cloud expertise, as well as other leading SaaS solutions and services for digital work. When customers' IT departments purchase solutions and services, a common challenge is that they often execute development projects in isolation instead of continuous development, monitoring, and analysis. This causes the company to fall behind the latest technologies, incur information security threats, and lose money. For this reason, we have a stronger focus on ongoing service partnerships.
What on earth is the fourth revolution in work?
The fourth industrial revolution – aka Industry 4.0 – is a familiar term to most, but the fourth revolution in work – Work 4.0 – is less talked about. Work 4.0 addresses the requirements introduced by Industry 4.0 in terms of working methods, work organisation, digitalisation, and work flexibility.
We have been recognised as Finland's leading Google Cloud expert for a decade. We are now using this as our springboard to reach higher and tackle the challenges posed by Work 4.0 internationally, with an expanded offering. In addition to Google, we will include other SaaS solutions representing the pinnacles of their respective sectors, enabling us to realise our mission of smart and enjoyable work.
Our ongoing service model addresses the challenges of modern work
More than 10 years of experience in development and deployment projects of Google solutions have taught us a lot. We have a deep understanding of organisations' pain points in terms of technology and working methods – and we have the solutions. We have noticed that organisations need to take eight key areas into consideration in order to make the most of the digital services they purchase and use.
Eight tips for making the most of digital services
New solutions need to be seamlessly integrated into the ecosystem. Poor compatibility will lead to problems further down the road.

Deployment should be carried out thoroughly from the technical and change management perspectives.

End-users should not just be taught to use services; the role of the service, respect to the organisation's working methods, should be carefully considered. This is a continuous process in which users are trained in smart working methods and the effective use of constantly evolving services.

Licences should be well managed. Have the correct number of appropriate licences and actively monitor their use and management.

The information security of applications should be audited and monitored constantly. Many companies do this only partially because it is so quick and easy to deploy new solutions.

The administrative work required by new solutions should be estimated up-front, and the necessary resources should be allocated. This is often neglected for seemingly straightforward SaaS solutions, and it could lead to information security risks and a bad user experience.

Usage analytics should be monitored actively, and the data should be used to guide decision making in the organisation as a whole.

The costs of using the services should be monitored actively and optimised to reduce the costs of unnecessary licences and usage.
Thanks to our new service model, we can promise that all these areas will be in good hands when you work with Gapps.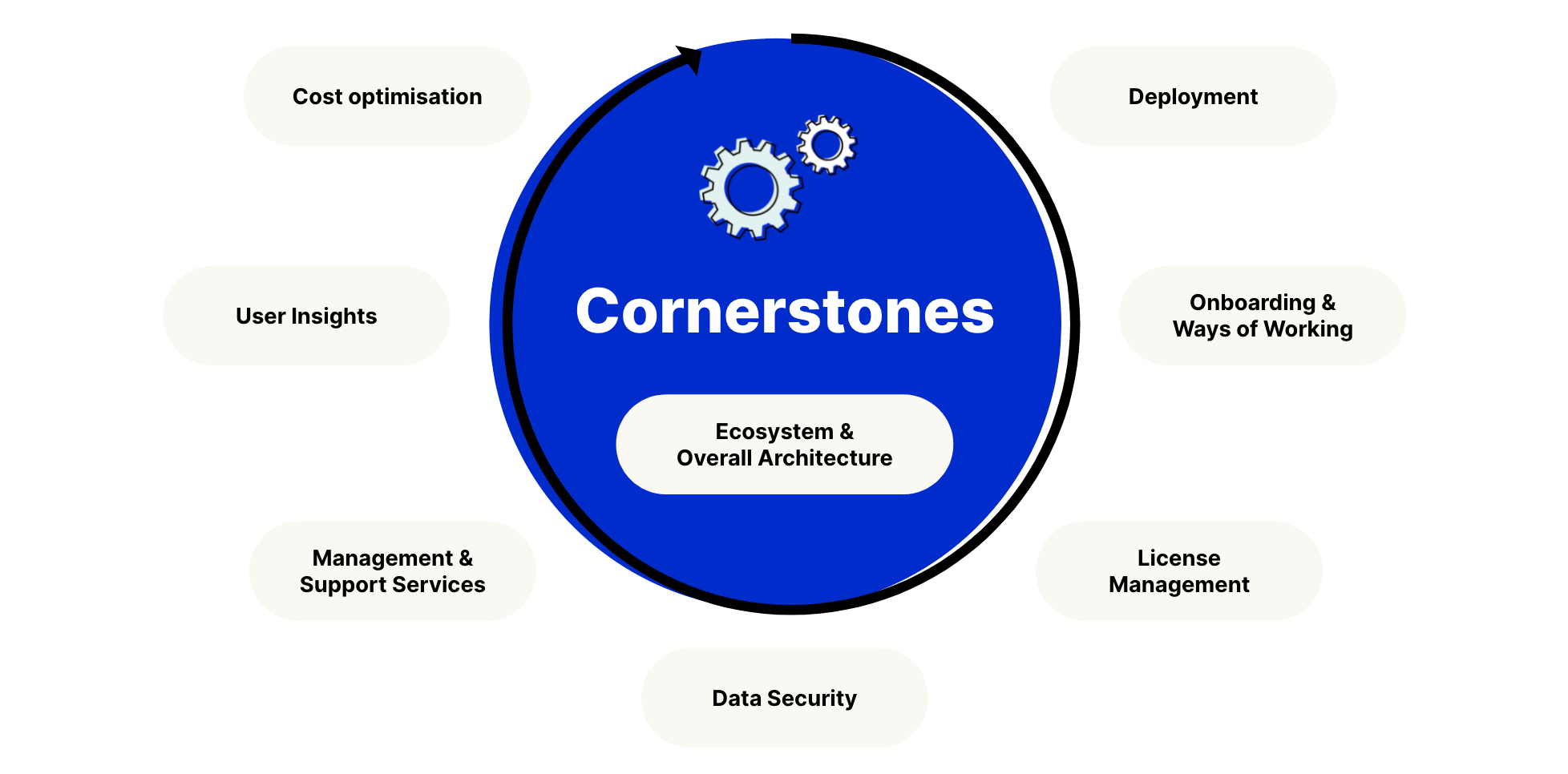 In addition to our outstanding technical expertise, we are well known in our field for providing the best customer experience, right down to the last end-user. This is important to us, so we have placed it in an even more central role in our new strategy.
Our range already includes best-in-class SaaS services such as the digital work environment Happeo. We will continue to provide the most experienced Google Cloud, Google Workspace, and Google Cloud Platform expertise in the Nordics. New products and services are constantly being added. We will announce some important new partnerships in the near future.
Let's head for new ground together
The world has changed, and Work 4.0 will soon be underway. Gapps will play a key role in solving the challenges it poses by offering the world's best technologies and expertise. If you have already realised that hybrid work is more than just a combination of remote work and online meetings, and you are wondering how to serve your customers and build a winning organisation for the future, we are here for you.
We will also bring together influential players from the sector to form a community that will help us develop our product strategy further. Come and get involved if you are interested in contributing your views.