Checklist for onboarding and offboarding employees: 15 key steps
Knowing how to onboard and offboard employees emphatically and effectively helps both employees and the company to feel comfortable and ensure that everything gets done by the book. Here we outline the key considerations you should think about before building onboarding and offboarding processes and what steps you should take in both processes.
If you only want to read a specific section, jump directly to it by clicking on the section here:
Things to consider before building an onboarding program
Even before you start to build your onboarding program, there are some things you should think about. Here are some of them.
Onboarding is not one person's responsibility. It overlaps with and affects many roles. For example:

HR – employment-related matters
Direct manager – job practicalities and scheduling
IT – access to both physical and online tools

➡️ Make sure all these people discuss and decide on the process together.



Cultural considerations: how to help the new employee become part of the community

Onboarding is about preparing both the new employee and the current employees for the change.


Let the community know when the new person is starting and what they can do to make the process smooth.


How do you want to communicate?

Be open and transparent about what has been communicated to the newcomer, the community, and the clients with whom the new person will work.



What kind of onboarding experience do you want to create?

Think about what is important to you as a company and how you want to welcome new people to your community. This will tell you how much time and effort you put into onboarding.


Remember: starting a new job is stressful for the newcomer and it is also stressful for the community they are joining. It is positive stress, but stress nonetheless. How can you ease that stress?



How do you share information without access to tools?

If the new employee won't have access to tools, systems, and accounts from day 1, plan how you will share information with them so that they are not forced to twiddle their thumbs until they have those accesses.


If getting access takes time, be frank about it and reserve the first days or week for meeting everyone the new person needs to meet. Manage the expectations by openly telling what happens and when.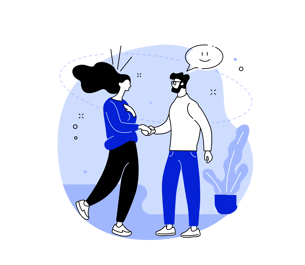 Employee onboarding checklist
Define the timeframe for the onboarding

When it starts, when it ends, and any checkpoints in between.


This reduces uncertainty and manages the expectations of the new employee.



Define expectations and goals

Think and write down the expectations and goals of the onboarding program. What should they achieve? What does life look like for the new employee after the onboarding program?


Good goals and expectations combine learning, development, and know-how. The more concrete the better. These goals set the frame for what needs to happen during onboarding.


How do you measure development?

Once you have your expectations and goals set, how will you verify that they will be met? How will you and the new employee know if they are meeting the set goals?



What are the principles of the onboarding program?

Does your company have principles, values, or ways of working you hold dear but no one can know unless you tell them? Write those down. Be concrete and clear.


For example, is it ok for employees to take time for learning? Is it ok to book a time from anyone's calendar or do they need to set it up through email? These might seem obvious to you, but they will not be obvious to anyone new.



Who should the new person meet?

Who are the right people to meet in the company? Create a list and directions: how to set up the meetings and why should the new person meet those people.


This helps the new person to feel safe, understand better who does what, and teaches ways of working.



Who can the new person turn to for help?

Choose one or a few people who are there to help and support the new employee. You can even create a buddy program.



Determine the substance and book time for it


What topics should the new person go over during onboarding? Divide it into themes, determine what materials each topic includes, and reserve enough time during the program for the new person to go through them.



Consider remote work challenges

Remote work has brought new challenges to onboarding programs. Companies should be extra considerate when onboarding new remote people.


Fully remote new employees can easily feel lonely and isolated. Plan tasks during onboarding where the new person gets to work in a group as much as possible so that they meet people and get to feel like part of the community.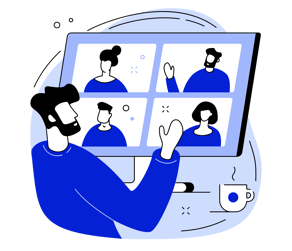 What does a good onboarding process look like?
It exists! Even if it is in an excel sheet, it is better than nothing.


It is transparent so that everyone knows what happens.


It is as clear and instructive as possible.


Does not include random or surprise tests.
Is possible to carry out from beginning to end.


It has measurable goals.
Is flexible. Don't force the new person to do things that have no value.


Gets updated. If once upon a time you required every new person to meet with the CFO, but you no longer do, update your instructions.


Is designed to help the new employee to succeed in their role.
Let's move on to look at what should happen during an offboarding program.
Employee offboarding checklist
Make a plan for different situations

A current employee leaves the company
A current employee goes on sabbatical
A current employee retires
A current employee switches roles within the company

➡️ all these situations need a slightly different offboarding process. Think about what is important in each case and make a plan accordingly.



Hold exit discussions and learn from them

Exit discussions are your last opportunity to get honest feedback. Encourage the leaver to speak openly. It can be really valuable for developing the role they're leaving or your company.


And if you do get constructive feedback, act upon it. Think about how you could have avoided any mistakes, what needs to change, and what you can do differently.



Take care of data, access, and devices

Make sure that the person leaving will not continue having access to systems and tools after they have left. In other words: create a process to manage their technologies and access to them. This is both a security and a cost issue.



Transfer ownership of tasks to other people

What are the most crucial aspects of the job that need to be moved to other people?



Hold a systematic walk-through of the leaver's work

Go over what work has been reassigned, to whom, what has been agreed about and what are the next steps.



Inform whoever needs to know

Keeping in mind what you can and cannot legally say about someone leaving, tell the people the departure affects the most: immediate colleagues, team, and clients.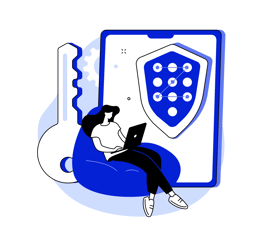 What does a good offboarding program look like?
Once again: it exists! A thought-out offboarding plan helps you not to forget anything important and ensures that everything goes according to rules and regulations.


Includes a plan on how to deal with access to technology, tools, and accounts in a secure and cost-efficient way.


Clearly outlines how to arrange work assignments and what discussions need to take place before the person leaves.


Focuses on the leaving party.

It would be easy to only focus on the future and on recruiting a new person, but a plan will make sure that you depart on good terms. It is a chance to protect your company's reputation and one final chance to create a good experience for your soon-to-be-ex-employee.


Any feedback you get from the departing employee about the job might help you with the recruitment: do you need to make changes to the job description or rearrange the work in a new way?
Technology's role in employee onboarding and offboarding
Take your time with tools. You can create onboarding and offboarding programs with a spreadsheet at the beginning. You don't have to invest in a full-blown system straight away. The most important thing is to write everything down.
Once you want to start using tools, there are a ton you can try first (for example monday.com and Google Workspace). Try them, play with them, and choose the best for you.
Subscribe to the Future of Work newsletter ✉️
Get a monthly overview of the most interesting news and resources that prepare you for the next steps of efficient, human-led working.
Subscribe now