4 most overlooked aspects of Google Workspace
Is the security of Google Workspace in your organisation under constant monitoring and active development? What about employee training, tips, and support for improving working methods? Do you feel you have enough time to keep track of how Google Workspace is evolving and consider its effects on your organisation? Can you say for certain that the licences you have are suitable for your needs and that you have the right number of them active?
Don't worry – not many people can.
Many try to overcome the same challenges
Google Workspace is supposed to support and accelerate your business. However, this does not always happen as your busy day-to-day work and focus on the core business take precedence over the support functions. The lack of human resources does not help either. We know that many organisations are trying to solve the same problems in their Google Workspace environment.
Are you experiencing any of these 4 scenarios?
Originally you started using Google Workspace and all was well, but since then, the updates and development of the environment have taken a back seat to matters of higher importance – such as the rapid growth in your company.

Responsibility for Google Workspace maintenance falls on the shoulders of the IT team (or the only member of IT), and that is just one of their many duties. Simultaneously, the reality is that building up significant expertise and understanding all the usage and development possibilities of an entity as large as Google Workspace would be a full-time job for more than one person.

Your organisation lacks the necessary expertise and resources to make full use of Google Workspace. In such case, comprehensive software administration, development, and user training end up being no one's responsibility, and they often do not get done. Other technology solutions, such as Slack, suffer from the same problem.

Before long, technologies and solutions that were supposed to support and accelerate the business become burdens.
Any of these scenarios sound familiar?
We have more than 10 years of experience with Google Workspace, and we have observed things that go unnoticed in almost every company.
Typical challenges for using Google Workspace effectively
The company has a sub-optimal number or mixture of different licences, leading to wasted money.

Overlapping IT services also waste money and clutter the IT architecture.

Information security is not monitored or subject to continuous improvement, giving rise to a significant business risk.

The company has no overview of how Google Workspace is evolving and how this will affect the company's working practices, leading to lower work efficiency.

The company is unable to offer enough support and training to enable employees to make extensive and sensible use of the tools, further harming work efficiency.

The administrators in the environment need to do a lot of the legwork, eating up working hours on non-essential matters and leaving less time for effective work.
Ongoing support and development of Google Workspace environment
We have worked with Google Workspace for more than 10 years with passion and know-how. We constantly update and develop our knowledge and do not approach Google Workspace as just a set of individual tools. For us, Google Workspace is an enabler of business development.
In-depth expertise, time and human resources are required to develop and make the most of Google Workspace. With Your Google Workspace service we build and manage our customers' Google Workspace environments like our own. Therefore they can focus fully on their core business.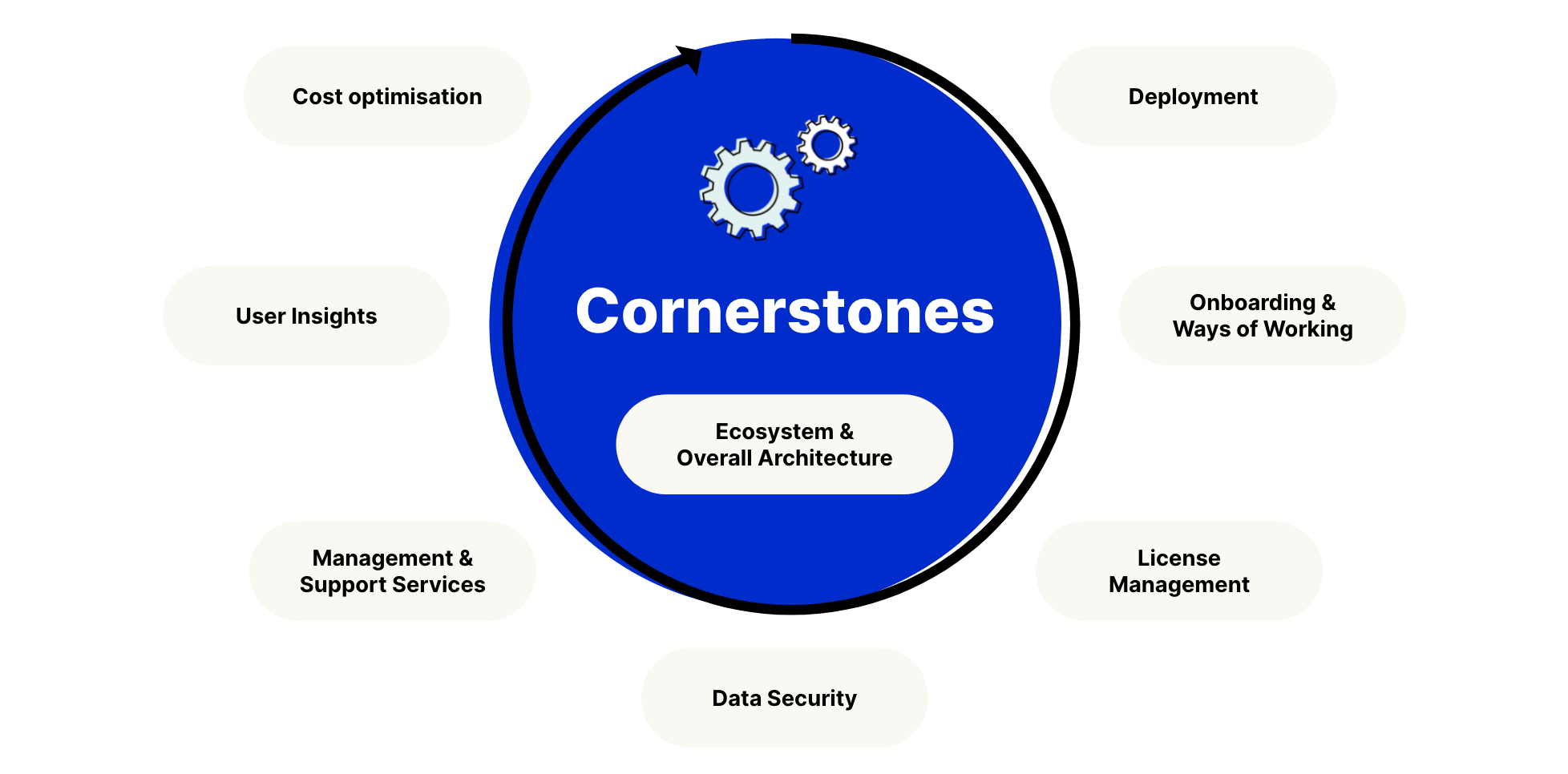 Our pledge to Your Google Workspace customers
Key personnel have less work to do in the Google Workspace environment because it is managed it on their behalf
There is optimal number and mixture of different types of licences
Information security is continuously monitored and managed
New and upcoming Google Workspace features are known, and utilised
Existing and new employees are effectively trained in the Google Workspace tools and the best working methods
The entire organisation has continuous support for the use of Google Workspace
If any of this sounds familiar, contact us, and we will see how we can help you with Google Workspace.
Subscribe to the Future of Work newsletter ✉️
Get a monthly overview of the most interesting news and resources that prepare you for the next steps of efficient, human-led working.
Subscribe now