How Mehiläinen improved employee experience with world-class service management?
Ensuring the seamless daily operations of employees is of utmost importance to the healthcare company Mehiläinen. A key foundation in achieving this goal is the optimization of internal processes, which demands ongoing development, the integration of cutting-edge technologies, and the adoption of a unified service model and platform - Freshservice.
Cooperation in brief
| | | |
| --- | --- | --- |
| Starting point | Keys to success | Result |
| The internal services offered to employees could be found on one platform, but the process still needed to be automated and streamlined. | A self-service portal was created for employees with the help of Freshservice, where internal service processes can be automated. | The new platform resulted in direct savings and efficiency. |
Rapid growth requires highly automated and seamless internal services
Improving internal digital services provided to Mehiläinen's employees, such as IT, HR, and financial services, has been an important focus in recent years.
Ilkka Hietala, Director of Digital Services at Mehiläinen, is responsible for the ongoing development of services within the organisation. The team's rapid growth over four years from four people to forty underlines the importance of these efforts, focusing on growth, operational capability improvement, and international expansion
The team consistently develops infrastructure, cybersecurity, and services that streamline employees' daily work. When bottlenecks are identified, the team strives to address them using the latest technologies.
One challenge was identified in the smooth creation and handling of service and support requests from employees. Traditionally, various requests were made and processed through multiple channels and processes. However, it was essential for Mehiläinen to have everything in one place. Particularly concerning IT tickets, there was room for improvement.
"We already had a reasonably efficient end-user support team that performed valuable work for the group. However, the tool they used no longer supported our goals, as our aim was to automate processes, and the previous tool didn't allow that. The biggest bottleneck was the interfaces," explains Hietala.
The self-service portal makes internal services easily accessible to employees enhancing the employee experience
The goal was to create a self-service portal for employees where internal service processes could be automated. This required an entirely new system. Freshservice was chosen for its excellent user experience, integrability, security, and scalability.

"These affect the daily lives of many people, so the system must provide the added value that the business needs. Especially when making a significant investment, it's essential to ensure requirements and plan in close collaboration with the business," emphasises Hietala.

With Freshservice and Gapps, Mehiläinen created a one-stop shop where internal processes and requests could be managed with a high degree of automation. The portal and processes were built in collaboration with Gapps and Mehiläinen's own team.

"Gapps brought the Freshservice system expertise that we lacked. We received consultation to support the planning and building up the services, and the team received training to understand what we would need in the future. Mehiläinen invests in its expertise, so we want to ensure that new systems are learned and used immediately."
The new Freshservice platform and service model have streamlined processes to the point where not everything needs to be done manually.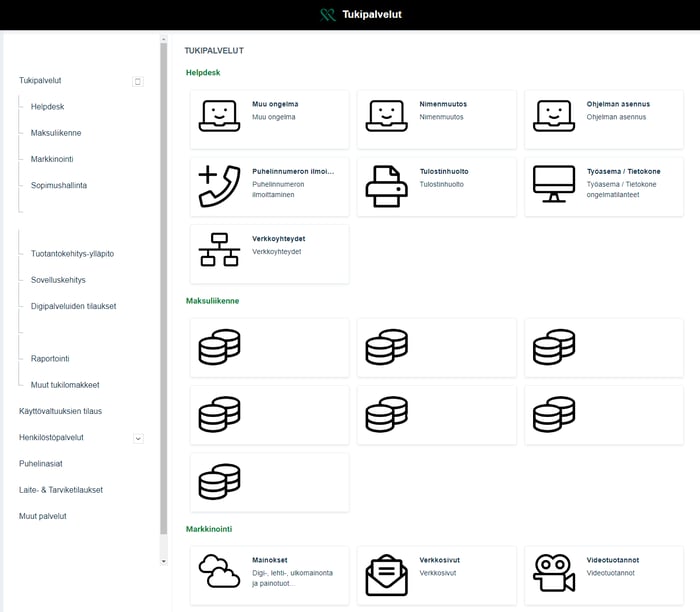 The home view of Mehiläinen's self-service portal looks like this today.
Highly automated and intelligent service management processes reduce the administrative tasks on front-line and support personnel
Previously, internal processes were largely supervisor-driven. Nowadays, everyone has access to an intuitive self-service portal, where all requests are made and approved.
For example, when a new employee is entered into the HR system, the process of providing the necessary accounts and tools is initiated automatically in Freshservice. A supervisor can select the devices and access rights the employee needs, and the orders are sent directly to the relevant teams for processing. This makes serving employees easy and seamless from their first day.
Enriching service requests with data collected from various points streamlines processing
Effective processing relies on managing and forwarding information. For this, Gapps and Mehiläinen have used the "know your customer" model, where each person's metadata plays a crucial role. When metadata accompanies requests, necessary actions and approvals can be tailored accordingly.
For instance, when making a support request, an employee doesn't need to fill in all the information manually. Freshservice can prefill some fields using the "know your customer" model. On the other hand, a supervisor making a support or procurement request in IT can immediately see what devices the employee is using and which department they belong to.
The new processes save a significant amount of time and speed up processing. The new platform has been rolled out not only in Finland but also in Estonia, Germany, and Sweden. Freshservice is now in use in all four countries.
Proof of Concept for the implementation of Freshservice platform by Gapps was an essential part of the procurement decision
Choosing the right platform is not always straightforward. The key is to purchase a solution that addresses identified issues and future development needs, rather than just having cool or mandatory features. According to Hietala, the best approach is to test practically whether the system serves the business as desired.
In the case of Freshservice, Mehiläinen chose to implement a proof of concept with the help of Gapps experts. During the project, it was confirmed that the platform provided comprehensive features, interfaces met Mehiläinen's high standards, security and data privacy requirements were met, and service development would be rapid and efficient in the future.
"Gapps' approach fit our work excellently. They have flexible processes and skilled people who worked closely with our team. The proof of concept was definitely the right approach for us." This approach provides flexibility, and the result might be that the system doesn't fit the intended use. However, in Mehiläinen's case, Freshservice worked as expected.
"It worked as it should, and the aspects that were important to us, such as interfaces, integrability, and security, were in order," says Hietala.
Change management is a crucial part of success
In significant and rapid changes, change management plays a critical role because changes in daily tools can evoke strong emotions. The most important thing is to listen to the users affected by these changes. Thanks to Mehiläinen's open culture of discussion, feedback was conveyed directly from support groups to the development team.
"Reactions were initially quite strong, and we received quite strict feedback at times. We genuinely wanted to spend time on the change and provide support to support groups," says Hietala. For effective implementation and listening to support groups, Gapps already had a clear process in place.
#1 The pain points of all forty support groups were separately identified, and ways to better serve their daily work with the new tool and workflows were determined.
#2 Focus groups tested the tool's functionality and provided feedback.
#3 Gapps provided the necessary training for the new tool.
#4 Gapps provided sufficient technical expertise for tool development.
The human-centric approach was effective: 400 support personnel were quickly moved to the new environment to serve more than 30,000 Mehiläinen employees. Hietala praises Gapps' model, as it also turned around the initial critical feedback.


Now, all support groups are in good shape, and they are satisfied that they have access to current technologies that support their work. Feedback changed immediately once we had heard from the representatives of support groups and developed in agreement."

Ilkka Hietala, Director of Digital Services, Mehiläinen
Significant cost savings and efficiency with the new platform
The result is a more intuitive, navigable service experience that offers more possibilities to both admin-level personnel and internal service providers. In a rapidly growing company like Mehiläinen, the most important outcome has been the improvement in operational capability and the ability to efficiently handle larger volumes.
Hence, one of the most important key performance indicators (KPIs) for the change has been tracking the number of tickets. Previously, the helpdesk struggled to handle all incoming tickets due to a high volume. Nowadays, manual work and overflow have been brought under control, and external partners are no longer needed to resolve tickets. This leads to direct cost savings.
However, Hietala reminds that the most important aspect has been to transfer services to the self-service portal and, thus, improve employees' daily work.

"This is such a vital change for us that we have strong confidence that this investment will bear fruit. The most essential thing for us is to provide employees with a meaningful career and the opportunity to use technology in their daily digital service tasks. Nobody should have to create 50 accounts manually; they should focus on something more meaningful, and that's the essence of it."
About Mehiläinen
Mehiläinen is a highly valued private provider of social and healthcare services operating in various healthcare sectors. Mehiläinen has approximately 30,000 employees and thousands of different teams.

In addition to Finland, the company has a foothold in Germany, Sweden, and Estonia. Furthermore, the Beehealthy platform created by Mehiläinen is used more broadly in the European region.