Should Google Workspace be managed by a partner?
Google Workspace isn't just a set of digital tools. At its best, it's an extensive solution for enabling and securing your business and accelerating its growth. However, there's a number of things you need to set up and keep in continuous development before you can get the most out of Google Workspace. And in many organisations this workload is bigger than what makes sense to do on your own. So, what kinds of organisations benefit from outsourcing Google Workspace?
The perfect Google Workspace environment – does it even exist?
Ideally, Google Workspace is a precisely optimised and data-secure environment in which every feature is used to its full potential. The end users and administrators receive all the support they need, and no money would be spent on unnecessary licences. In addition to the environment meeting all requirements for current operation, the organisation also has its eyes on the future and developing Google Workspace for tomorrow's needs.
The perfect Google Workspace environment also gives a flying start to all new staff members: they learn how to use digital tools effectively. As Google Workspace continues to evolve quickly and new, useful features are regularly introduced, experienced staff would also receive continuous training to improve the efficiency of their work.

This rosy description rarely reflects reality, however, as organisations don't generally have the resources to manage Google Workspace perfectly. Responsibility is often also shared between several departments within the organisation, which means no one has complete control of Google Workspace as a whole. What's more, organisations have to prioritise, which can sometimes lead to even the most important things failing to get the attention they need.

In our experience, user accounts are usually managed effectively, but various data security elements such as device management and access rights are commonly in need of further development. Usually, organisations simply haven't found the time to do the necessary work. Additionally, they haven't had enough time to consider the security, retrievability and ease of use of different file types and data in Google Drive. For the same reason, organisations are often unfamiliar with various features that make users' lives easier.

An organisation can only begin their journey towards a perfectly honed Google Workspace environment when they understand the full breadth of what can be done with it. When you start to understand its full potential, it's easier to visualise Google Workspace's role as part of the organisation's IT architecture.
But when should you outsource Google Workspace, and when should you keep everything in house?
Who should manage Google Workspace themselves?
Freelancers and companies that only have a handful of staff

These users' operations are small in scale, and bringing a partner on board will not provide the big benefits needed to justify the cost.

Recent start-ups

Because Google Workspace is easy and quick to deploy, it lets new companies focus on building their business. However, if the company is growing rapidly, it may be worth bringing a partner on board to free up time for more important things.

Those who want to dive deep into the Google environment and love experimenting with the Admin Console

If you genuinely love maintaining and developing Google Workspace, why entrust it to someone else? While a chore for many, tasks like monitoring and reacting to security alerts can be fulfilling for some.

Organisations that already have a staff member dedicated to managing Google Workspace full-time

If your organisation already has the necessary expertise in house and the staff in question spend a large portion of their working hours with Google Workspace, then the right resources have already been allocated to managing and developing the environment.

Organisations whose Google Workspace environment is already in the perfect condition described above

Are you sure this is really the case? We recommend going through this list to make sure everything really is in tip-top shape. If your answer to any of these questions is "no" or "I don't know", we recommend turning to a Google Workspace partner.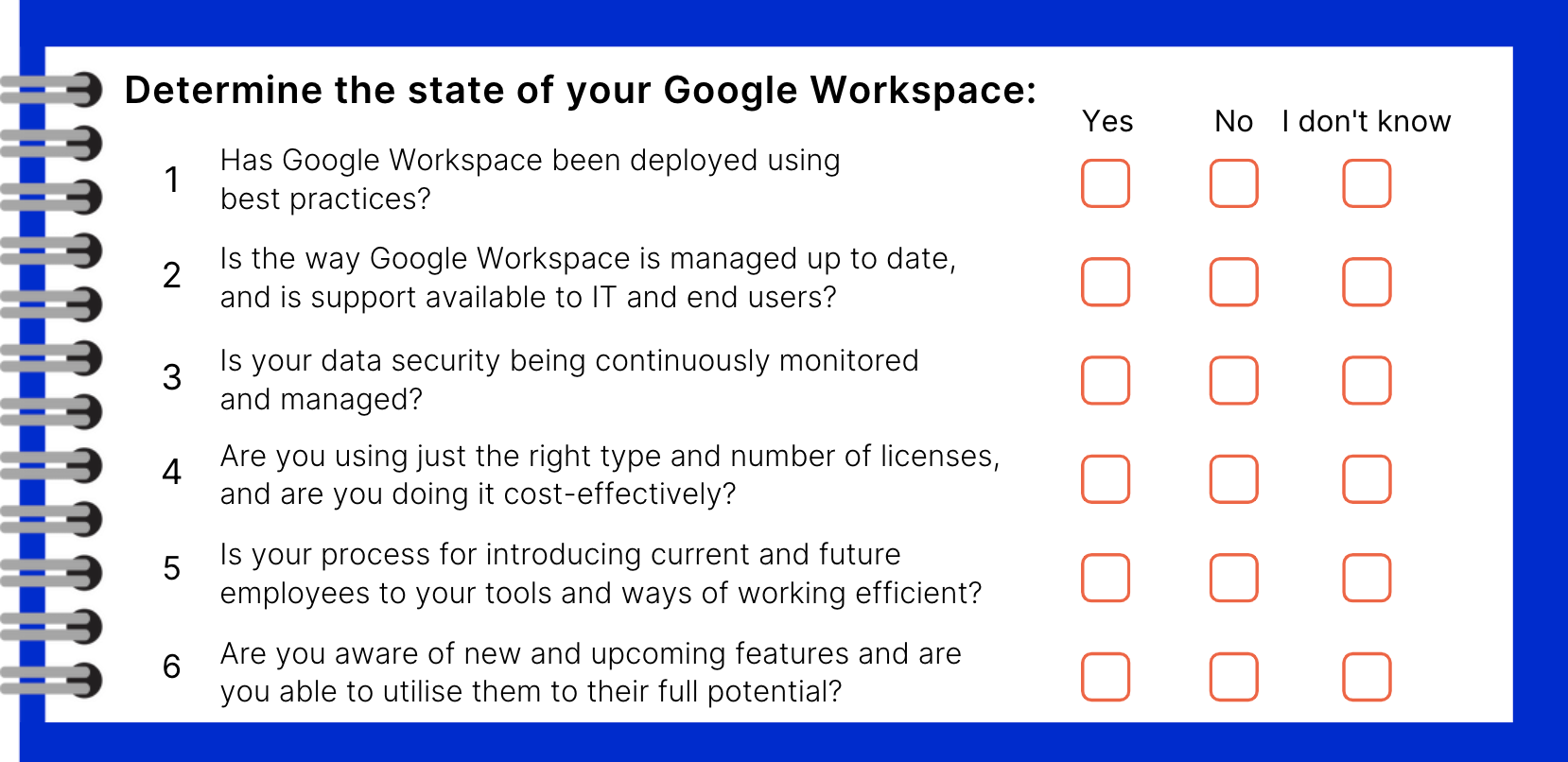 tl;dr If you're a small organisation that only relies on Google Workspace for tools like email and calendar, or a large organisation that has enough hands and know-how dedicated to maintaining, developing and monitoring Google Workspace, your best choice is likely to manage it yourself.
Who should outsource Google Workspace to a partner?
Companies that are growing rapidly or looking to grow rapidly

Growth requires complete focus on your core business. That means it's best to leave your Google Workspace environment in the hands of experts who can harness its potential and ensure it's genuinely supporting your growth – a real win-win situation!

Industry leaders with a focus on developing their core business

Companies who see IT as an enabler of business – IT listens to the organisation's needs, from HR to sales, and offers solutions to answer those needs, not the other way round.

Companies that already use Google Workspace efficiently and want to minimise risks

Companies like this are already efficiently utilising Google Workspace, which hosts business-critical functions such as successful delivery of customer projects. Due to this they have all the more reason to ensure that their whole business doesn't collapse if something goes wrong.

Companies that want to improve their employee satisfaction

Companies like this want to have access to genuinely helpful and problem-solving support services for IT and end users. They also want to develop their work processes to better respond to future challenges.

Companies that want to develop their data security and minimise security threats

These companies may have identified vulnerabilities in their environment and want to avoid possible financial losses or damage to their reputation. However, they don't have what they need (time and/or expertise) to overcome these vulnerabilities.

Companies that don't want to pay for things they don't need

Companies like this may not have a strong grip on their overall system and may be using tools with overlapping functions, creating unnecessary expenses. They may also be uncertain about what types of licences they own and how many they actually need.
tl;dr If your organisation wants to focus on developing their core business and use their own time and money in a smarter and more productive way, you may want to leave responsibility for Google Workspace in a partner's hands. With a partner on board, you ensure that Google Workspace environment is secure and that the tools you use fit together intelligently. It also helps you ensure that your staff know how to use the features of those tools efficiently in their own work.

6 key areas of Google Workspace
If reading this has led you to think about the state of your Google Workspace environment or how you could develop it further, we recommend approaching it through six key questions.

If your answer to any of these questions is "no" or "I don't know", we recommend turning to a Google Workspace partner.
Deployment: Has Google Workspace been deployed using best practices?
Management and support: Is the way Google Workspace is managed up to date, and is support available to IT and end users?
Data security: Is your data security being continuously monitored and managed?
Cost optimisation: Are you using just the right type and number of licenses, and are you doing it cost-effectively?
Continuous development of work processes: Is your process for introducing current and future employees to your tools and shared ways of working efficient?
Development and overall architecture: Are you aware of new and upcoming features of Google Workspace and are you able to utilise them to their full potential?
Subscribe to the Future of Work newsletter ✉️
Get a monthly overview of the most interesting news and resources that prepare you for the next steps of efficient, human-led working.
Subscribe now